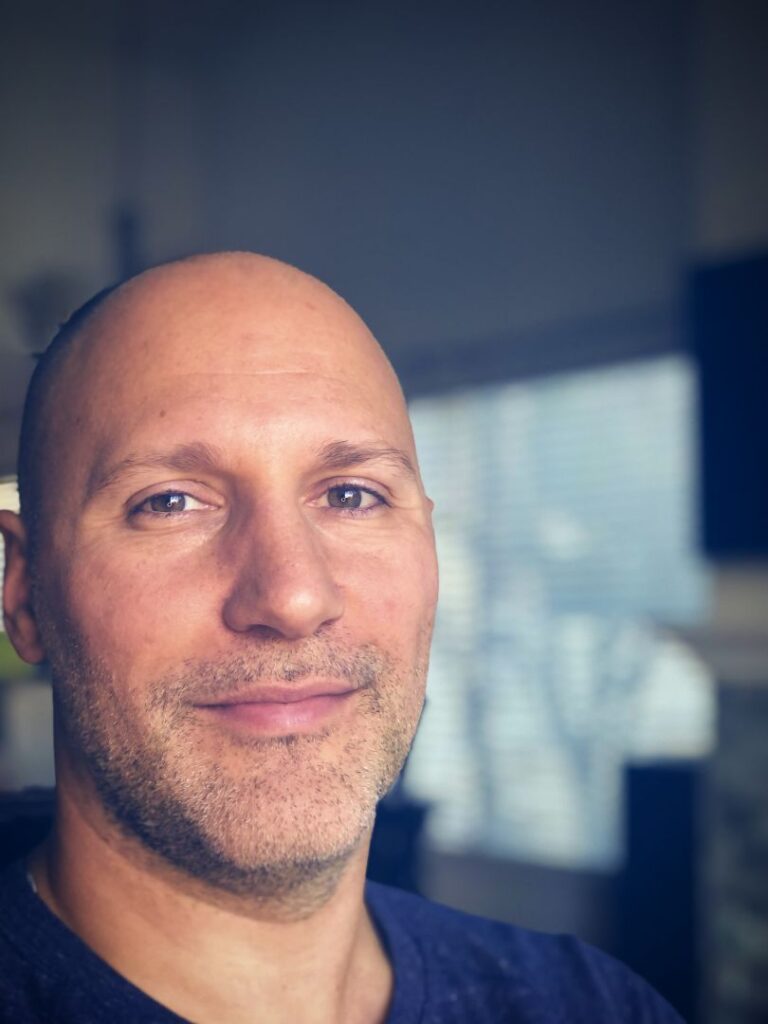 We had the good fortune of connecting with Nick Bozzone and we've shared our conversation below.
Hi Nick, how has your background shaped the person you are today?
I am from a very small foothill town called Camino, CA. To give you an idea of how small, my town had zero traffic lights, 2 pay phones, 1 gas station and my graduating 8th grade class was a total of 42. The town was built around the logging industry while (and before) I grew up. It's also known as Apple Hill and in the fall, people come from hundreds of miles away to spend the day gathering apples, eating pies, drinking wine from the vineyards, and in the winter people come again to cut down their very own Christmas trees.
I was raised to respect my family and my elders, behave in public and work hard. I've never lost sight of those values… they are a part of who I am. I do often think about where I am now, both physically and professionally, and compare it to where I came from. Living in Los Angeles working with film and TV celebrities, platinum record musicians, sports stars etc, has not changed my view of who I am or how I act, and I contribute that to the way I was raised by my parents and my small town upbringing.
Can you open up a bit about your work and career? We're big fans and we'd love for our community to learn more about your work.
I am a post production sound mixer and sound designer. To those of you who don't know what that is, I am responsible for everything you hear in a TV or radio commercial, short film, feature film, documentary, video game, art installation, slot machine, audio book, telephone answering system… any type of medium that you can hear things on, I've probably done a project just like it. This includes recording voice over, dialog restoration, music mixing, sound design, ADR, stereo mixing, 5.1 mixing and ambisonic mixing (YouTube 360VR, FaceBook 360VR and Oculus VR).
The road that has gotten me to where I am today, and the success that I have had, was long and certainly not easy. After graduating college with a Communications degree in Northern California, I moved across the country and went to Full Sail University for my Recording Arts degree. I then moved BACK to California and hit the streets hard, trying to find an internship in Sacramento, San Francisco and Los Angeles areas. After 4 months of knocking on doors and a lot of Mapquest directions printed out, I was finally extended an unpaid internship in a small studio in downtown Sacramento that focussed on local radio commercials. It took about 1 month there until the studio manager hired me on full time. About 8 months later, one of my resumes hit in Los Angeles, and I was offered a job working on feature film conforms for Airlines and TV broadcasts, as well as foreign language releases. I had to live on my brothers couch for awhile until I could save up enough money to get my own apartment. After about 6 months of working the night shift at this studio, it was announced that they were going bankrupt and would be closing, which left me hitting the streets knocking on doors again.
I went into Santa Monica and asked for a tour of the most prominent commercial studio at that time, P.O.P. Sound (Pacific Ocean Post). Once the tour was over and I was driving back to my apartment, I got a call from the studio manager offering me a position in the duplication department where they made copies of DBCs, VHS tapes, CDs, Dats, DA-88s, etc. It was here that I learned how to work with video and timecode and many other skills that I still have and am grateful for. After awhile, a position opened up in one of the studio rooms as an assistant mixer and I was selected for it. I spent over 4 years sitting beside an amazing mixer, Stephen Dickson, who taught me everything he knew about being one of the top commercial mixers in Los Angeles. Everything from technical mixing concepts to reading the room full of clients, executives and celebrities alike. Eventually, I began to mix low budget projects after hours until I could prove that I could handle the pressures of working in front of clients on tight timelines, they call this 'running the room'.
Not long after this, I was offered my own room, with my own assistant, and it was here that my career really began. I've worked in 5 studios throughout my career, and 3 of those shut down while I was an employee. To say that you have to be tough and resilient in this business, couldn't be more accurate!
I have been working for myself now as a freelance mixer / sound designer for over 4 years, and I love it! I'm not going to lie, I was scared as hell making the transition from a full time employee to working for myself, as you no longer have the safety net of a company or corporation under you. But that said, these last 4 years have been the most fulfilling of my career so far… all of my successes, all of my clients both old and new, are mine. When I make a mistake, there's no one else to blame. When I come across a problem, or something that I don't know… it's up to me to figure it out or learn how to do it! I am responsible for how successful or unsuccessful I am… it makes the wins more powerful and the loses that much more painful. This is one of the best rides I've ever been on.
The main lesson I have learned is to never give up… find a way, focus, work hard, stay positive! Also, and this goes out to everyone, be sure that you are celebrating your successes, no mater how small they may seem. You'll be amazed at how just a small recognition of the good things in your life, will feed more and more, and larger and larger celebrations… and that, in my mind, is success.
If you had a friend visiting you, what are some of the local spots you'd want to take them around to?
One of my favorite places in Los Angeles is in a little area called Playa del Rey. I lived in and around there for over 10 years. Maybe it reminded me of a small town, maybe it made me a bit more comfortable knowing that most everyone in the city was to my east, and nothing but ocean was to my west… all I know, is that little community made me feel right at home. If you find yourself on W. Manchester Ave, take it as for as you can toward the ocean. Right before it ends, you'll find yourself on the top of a hill that overlooks the beautiful Playa del Rey beach and ocean as far as you can see. The beach is huge and never over crowded. From time to time, I would pack up my lunch and drive over there and eat it while just staring at the view. Oh, and try to catch a sunset there if you time it right, you'll thank me.
Shoutout is all about shouting out others who you feel deserve additional recognition and exposure. Who would you like to shoutout?
When I was young, the TV show Cheers was one of the most popular shows on at the time. My parents had a piano in the other room, and one day I went in, sat down, and plunked out the theme song. They heard this and immediately signed me up for piano lessons. This was the point in my life where I was able to understand how much I liked music, sounds in general, and that I had some natural talent with them. This opened the door for me to play many other instruments as I grew up… drums, trumpet, valve trombone, baritone and acoustic guitar. Later in life, computer programs began to pop up that would allow the use of instrument loops or musical phrases, and I was all over those. If it weren't for my parents hearing that Cheers theme song, I might have never had the opportunity to explore my musical interests. They heard me, and I give them all the credit for the path I have taken.
One other person that pointed me down my path is my friend Josh Pusateri. We were in College and one day he came up to me and told me about this really cool sounding class that was called "Introduction to ProTools". I had no idea what that meant at the time, nor had I even heard this class existed before this. He and I both signed up, and after the very first class… I was hooked! I now use ProTools every single day as it is the industry standard. If it weren't for Josh talking me into taking that class, I probably would have continued on with my Psychology degree! Instead, I went with a BA Communications degree with an emphasis on Digital Media (the closest my school offered to music production at the time). After graduation, I attended Full Sail in Winter Park, Florida for my AA in Recording Arts.